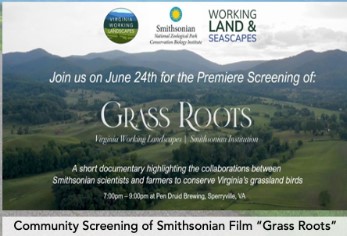 On Friday, June 24 at 7pm,Virginia Working Landscapes (VWL) and the Smithsonian Institute will be showing the premiere screening of a new short documentary "Grass Roots," featuring scientists from VWL and the local farms we collaborate with to study and conserve biodiversity on working lands.Click here to view the trailer.This free outdoor event will run from 7pm–9pm at Pen Druid Brewing in Sperryville, VA, with food and beverages available to purchase on-site. We hope to see you there! No registration required.
Meet the film's featured farmers and learn about how this research is being used to help guide conservation efforts with local partners through the newly-launched Piedmont Grassland Bird Initiative. 
Sign up at the link below and feel free to forward this email to friends and colleagues!
https://www.vaworkinglandscapes.org/events/?mc_cid=d4ea2b653c&mc_eid=87b98c4af9