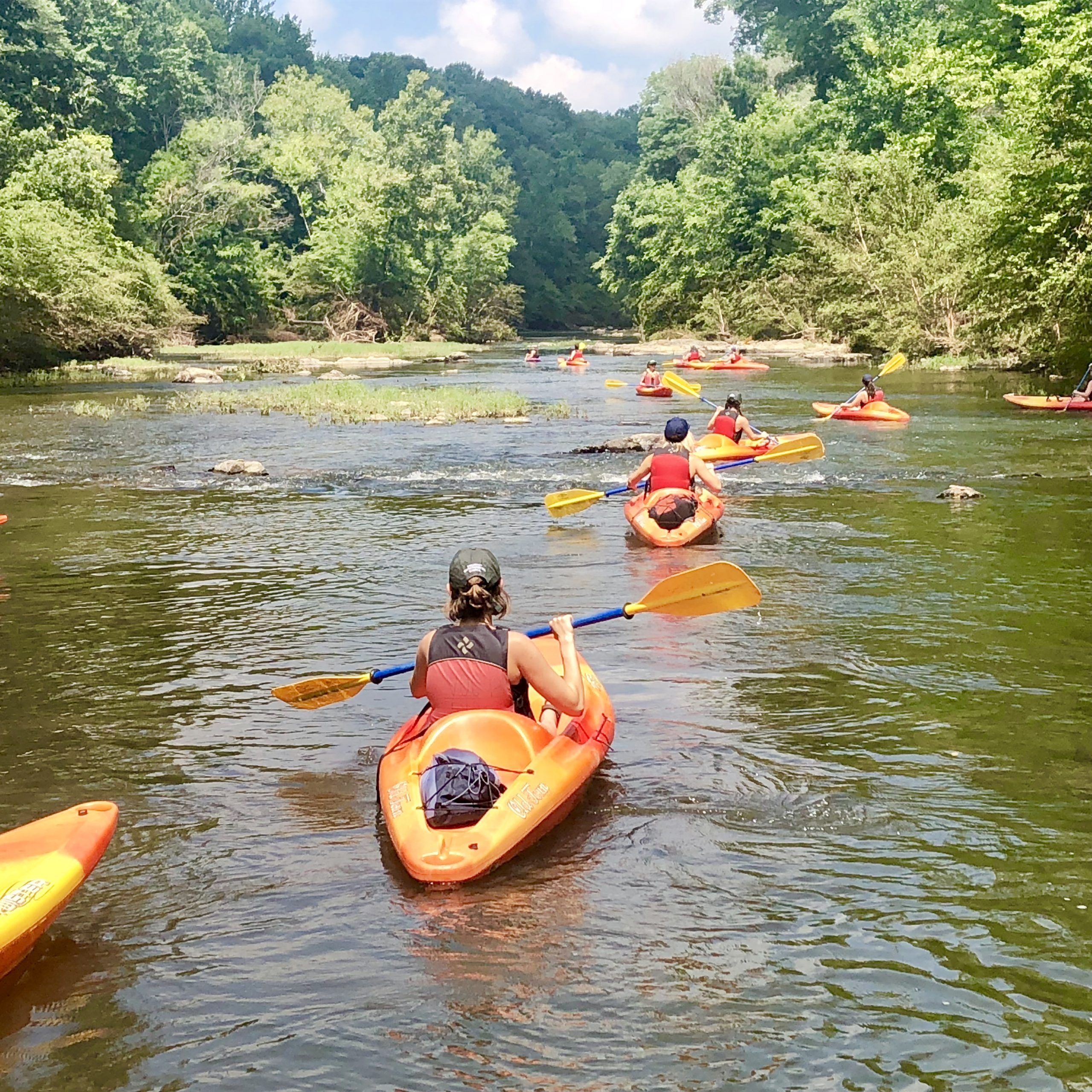 The Rappahannock River Roundtable is a strategic partnership of stakeholders dedicated to land and water conservation, community outreach and education, and capacity building throughout the entire Rappahannock River Watershed.
The Roundtable is a collaborative of organizations working to accelerate the pace of water quality improvement and pollution reduction guided by the Virginia Phase III Watershed Implementation Plan (WIP), the Chesapeake Bay Total Maximum Daily Load (TMDL), and many local TMDL implementation plans.
Started in 2016 through the financial support from the Virginia Department of Environmental Quality (DEQ), the Roundtable has grown in size, membership, and impact. In 2019  and 2022 the National Fish and Wildlife Foundation supported the efforts of the Roundtable with an Innovative Nutrient and Sediment Reduction (INSR) grant to focus on capacity building and best management practices prioritized by local partner organizations.
This site shares resources, projects, and upcoming opportunities for professional development.
Bryan Hofmann
Coordinator – Rappahannock River Roundtable
Deputy Director
Friends of the Rappahannock
540-373-3448 x112
bryan.hofmann@riverfriends.org 
 9432 N James Madison Hwy,
Rapidan, VA 22733
Lowery Becker
Non-Point Source Specialist
Northern Neck Soil & Water Conservation District 
804.313.9102×104
lowery.becker@nnswcd.org
5559 Richmond Road Suite B
Warsaw, Virginia 22572
Michelle Edwards
Regional Environmental Planner II
Rappahannock-Rapidan Regional Commission
medwards@rrregion.org
540-829-7450
420 Southridge Parkway Suite 106
Culpeper, VA 22701

Shereen Hughes
Assistant Director, Wetlands Watch
Virginia Coordinator, Chesapeake Bay
Landscape Professional Program
757-880-6802
shereen.hughes@wetlandswatch.org
2601 Granby Street
Norfolk, VA 23517
Kendall Tyree, Ph.D.
Executive Director
Virginia Association of Soil and
Water Conservation Districts (VASWCD)
804-559-0324
kendall.tyree@vaswcd.org

7308 Hanover Green Drive, Suite 100
Mechanicsville, Virginia 23111
Aaron Wendt
Environmental Specialist
VA Department of Conservation and Recreation
Shoreline Erosion Advisory Service
804-296-1701
aaron.wendt@dcr.virginia.gov 
PO Box 1425
Tappahannock, VA  22560
Maggi Blomstrom
Regional Coordinator- Rappahannock River Roundtable
Rappahannock-Rapidan Conservation Initiative Coordinator
Piedmont Environmental Council
mblomstrom@pecva.org
(540) 347-2334 ext. 7067
45 Horner Street
Warrenton, Virginia 20186
David Evans
Nonpoint Source Coordinator
Northern Regional Office
VA Department of Environmental Quality
703-583-3835
david.evans@deq.virginia.gov
13901 Crown Court
Woodbridge, Virginia 22193
Lisa Biever
Executive Director
Northern Neck Land Conservancy
Lisa@nnconserve.org
804 250-2334

|483 Main Street, Suite B,
Warsaw, VA 22572
Eldon James
Coordinator- Rappahannock River Basin Commission
ejames7@me.com 
540-907-2008
Mikel Manchester
Associate Extension Agent
Virginia Cooperative Extension
540-373-3448, X111
mamanchester@vt.edu 
3219 Fall Hill Ave.
Fredericksburg, VA  22401
Andy Lacatell
Virginia Chesapeake Bay Director
The Nature Conservancy
alacatell@tnc.org
804 516-8609
530 East Main Street
Suite 800
Richmond, VA 23219
Meredith Keppel
Regional Coordinator– Rappahannock River Roundtable

Environmental Planner II
George Washington Regional Commission
540-642-1575
meredith.keppel@gwregion.org

7308 Hanover Green Drive, Suite 100
Mechanicsville, Virginia 23111
Bryant Bays
Regional Forester, Eastern Region
VA Department. of Forestry
(Cell):  540.558.8423
bryant.bays@dof.virginia.gov 
11301 Pocahontas Trail
Providence Forge, VA  23140
Marcie Kapsch
Refuge Manager
Eastern Virginia Rivers National Wildlife Refuge Complex
United States Fish and Wildlife Service
marcie_kapsch@fws.gov
804-366-7951
336 Wilna Rd
Warsaw, VA  22572
Jacob Gilley 
Mid‑Atlantic Sustainable Grazing Manager
American Farmland Trust
540-228-9938
jgilley@farmland.org

1150 Connecticut Ave NW Suite 600
Washington, DC 20036
Woodie Walker
Director of Environmental Services
Historian and Curator
Rappahannock Tribe
(804) 769-0260 x. 107
wwalker@rappahannocktribe.org
5036 Indian Neck Road
Indian Neck, Va. 23148
John Odenkirk
Fisheries Biologist
VA Department of Wildlife Resources
540-899-4169
john.odenkirk@dwr.virginia.gov
1320 Belman Road
Fredericksburg, VA 22401