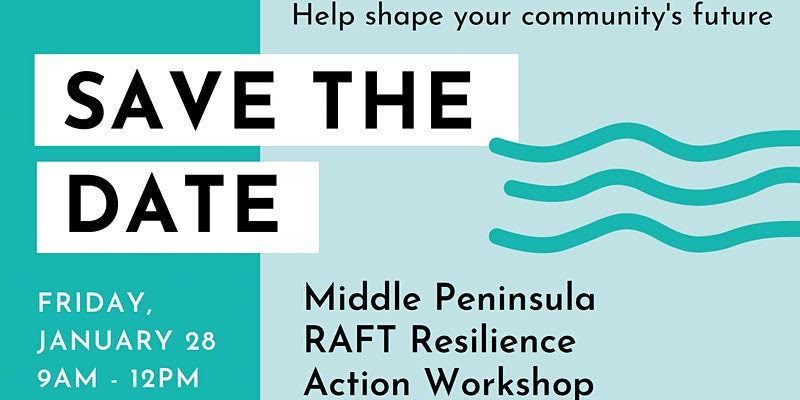 Join your neighbors at the Middle Peninsula Resilience Action Workshop on January 28th from 9 am- 12 pm on Zoom to identify priority actions for the next year to increase your community's resilience. The RAFT (Resilience Adaptation Feasibility Tool) is a collaborative process that supports community action for a more resilient future. This virtual workshop is a forum for locality staff, nonprofit and civic organizations, and business and community leaders to prioritize the resilience action items that will be the focus of a year of implementation support from the RAFT team.
Our virtual workshop in January is for locality staff, nonprofit and civic organizations, local businesses and individual community leaders. Our discussion will aim to increase the community's resilience. This includes elevating the needs of historically excluded and underserved communities within the Middle Peninsula, as well as identifying potential projects for support through the Middle Peninsula PDC Fight the Flood program.
Please REGISTER to receive a Zoom link and join us on January 28th!
More information about the full RAFT process is available on the RAFT website: https://raft.ien.virginia.edu/