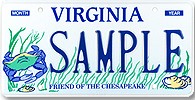 What does your license plate represent in the Rappahannock River Region?
Do you love the Rappahannock River and the Chesapeake Bay? Do you want to show everyone you care? The Chesapeake Bay License plates are a simple and easy way to show your love and support for our local rivers, streams, and the Chesapeake Bay! It honors our heritage, cares for the environment, and provides resources to local schools and non-profits.  A portion of each license plate sold goes into the Chesapeake Bay Restoration Fund, a grant program administered by the Commonwealth of Virginia that directly supports on-the-ground conservation and education programs. 
The Rappahannock River has a long history of support from the Chesapeake Bay Restoration Fund! This program has helped plant thousands of trees in our riparian areas, pay for students to attend environmental education programs and nature field trips, restore oyster reefs, install native plant gardens, and lots more!
Interested in learning more?
Fill out the license plate application here and show your support for the Chesapeake Bay! 
Apply online and view more information on pricing and purchasing here. 
Are you interested in submitting an application for funding through the Chesapeake Bay Restoration Program? Fill out the Chesapeake Bay Application here. 
If you would like assistance developing an application or project proposal for the grant program, the Rappahannock River Roundtable can help! Please email info@rappahannockroundtable.org for assistance.